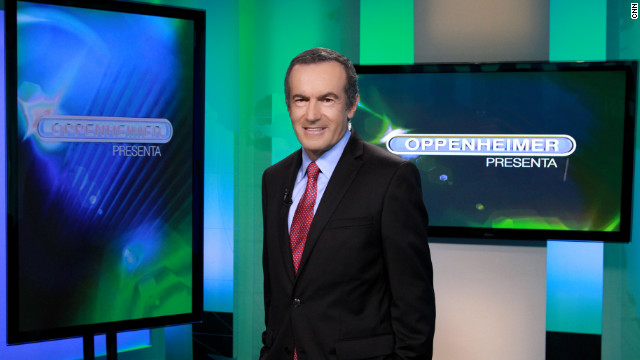 CNÑ
announces
that
Oppenheimer Presenta
, a long running roundtable and analysis show hosted by Andrés Oppenheimer, is going to air on the network on Sundays at 9pm ET, in the feeds for the U.S., Central America, the Caribbean and South America. Mexican viewers will continue to get
México Opina
in the timeslot.
No word yet if this means the show will be pulled out of syndication or if CNÑ is going to be producing the show. The photo from the CNNEspañol blog shows Andrés in CNÑ's Miami bureau.
I remember watching his show when it aired in a Argentine broadcast network, I read some of his newsapers columns and I've seen him several times in his role of CNN en Español analyst. I like him. However, CNÑ's involvement scares me.
For once, I love how the management is trying to up the level of discourse, but I hope it is Andrés and his team who decide the subjects. I'm sick of Chávez and U.S. primary elections analysis.
Presenta
discusses a wide range of topics, so I hope that stays put.
I also hope it doesn't resort to frivolous topics like other so-called news shows in the network.
He is seen by many as a right wing analyst. I'm not going to compare him to Bill O'Reilly, but some are going to do that comparison because of some of his columns and opinions expressed in the show. So far, he's been a quiet analyst in his CNÑ appearances, but having his show there changes the rules. Both CNÑ and Andrés have to be careful not to hurt each other's reputation.
Should CNÑ see this as an opportunity to become more opinionated and possibly steal frequent guest Eva Golinger from RT Actualidad? At the moment, no. Let's see how it goes.